Waqas' work is known for its meditative qualities, where gentle lines of ink are placed on wasli paper to create expanding organic shapes.
Words: Savia Shah and Sofia Nebiolo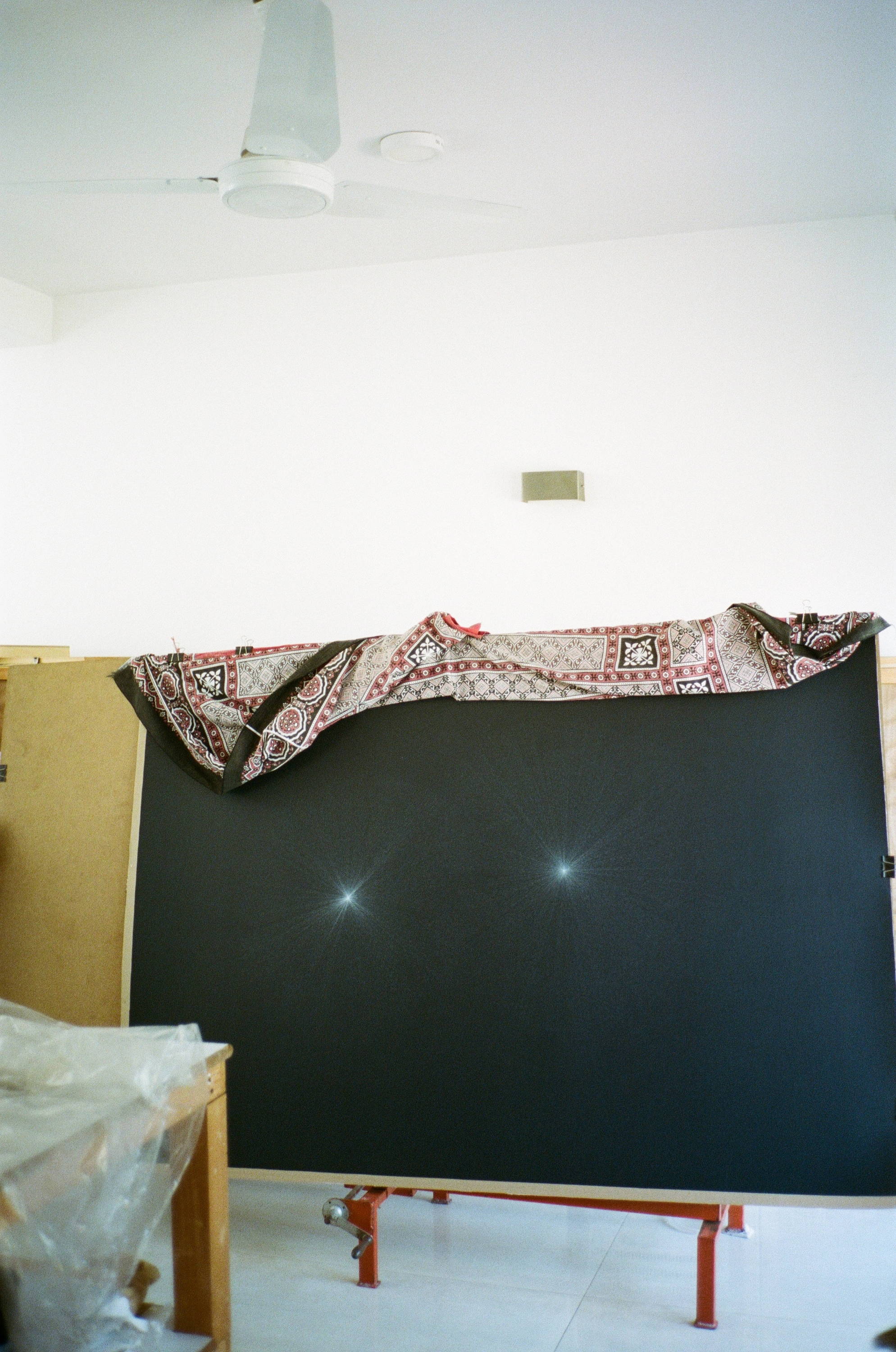 On entering their family home, I feel a sense of familiarity to the rituals of daily life. Amongst the artwork on the wall, there is a mix of children's art supplies and paperwork on the dining table. The space is personal and lived.
Waqas enters the room with some ruckus, his two-year-old son tangled between his legs and his gentle yet radiant wife Bushra follows not far behind. It is eleven o'clock in the morning and it seems everyone has just risen. Recalling that Pakistani households don't usually begin the day so early, I apologise for the inconvenience. Waqas only adds to the embarrassment that yes, he did only wake for us.
He takes a seat on the corner of the sofa. He is relaxed and explains that when he got our email, he felt it would be appropriate for us to speak to his wife as well, who's recent work has been centred on ideas of textiles and clothing.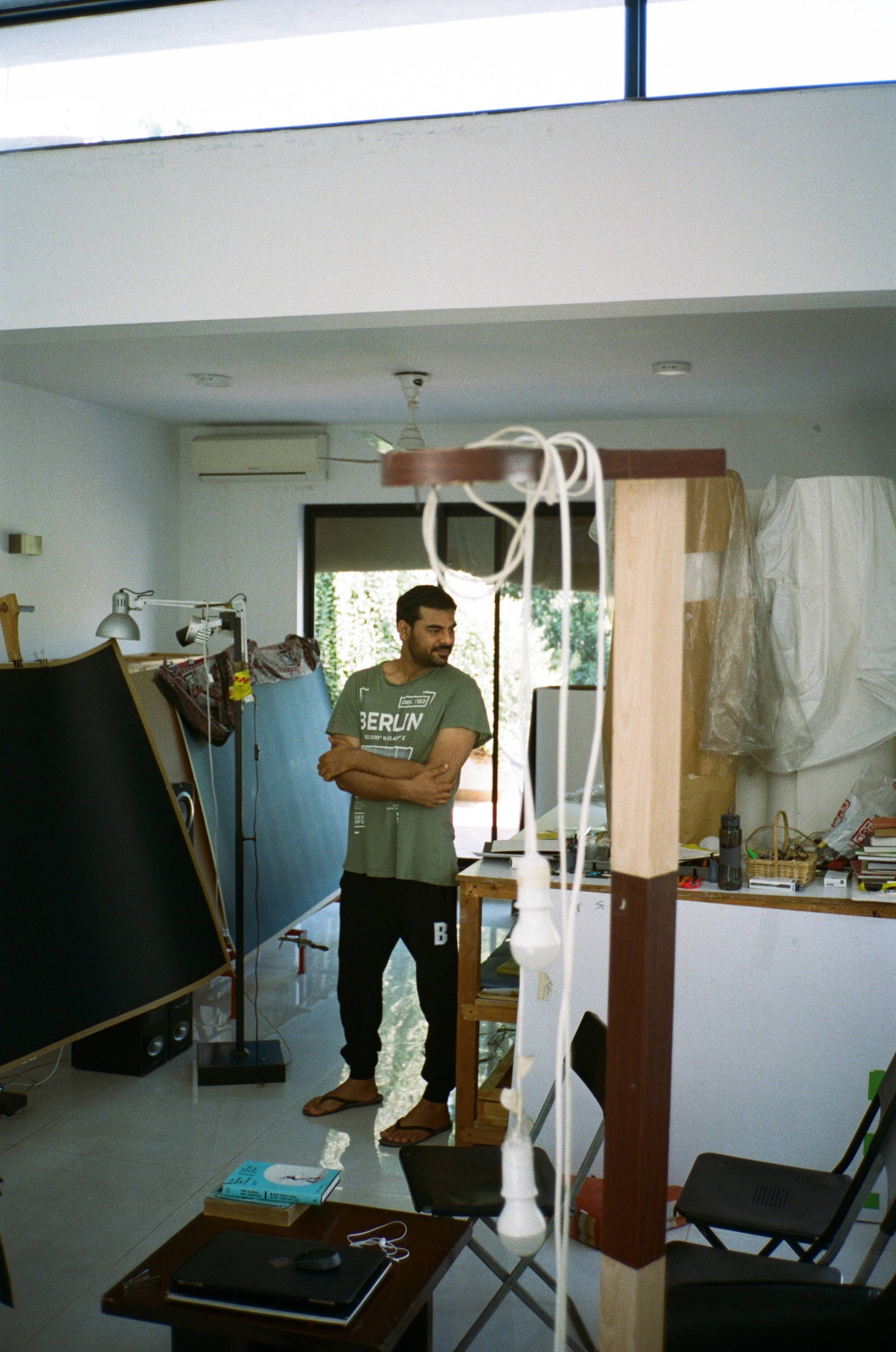 Savia Shah (SS): Is this where the two of you create most of your work?
Waqas Kahan (WK): Yes, I am here most of the time. My studio is upstairs, Bushra's is down here, but I would say the whole house is a studio.
Waqas and Bushra have prepared a beautiful spread of home cooked dishes, such as beetroot kebabs, dahee balai, and a delicious Lebanese dessert.
Sofia Nebiolo (SN): How does the city of Lahore influence both your practice?
Bushra Khan (BK): Well right now, I do not have too much time to work since the arrival of our second son. But I keep a journal and I keep writing my ideas. I am always thinking about my practice. My work is quite focused on Pakistani culture whereas Waqas' work is of a universal language. Our work is very much opposite.
SN: Do you find that these opposing styles speak to each other?
BK: Of course, they do, because I have a lot of repetition in my work as does Waqas. We do speak about our work together, and we often discuss our thoughts and ideas.
SN: What medium were you both trained in?
BK: We actually both graduated in print making from the National College of Arts, NCA. It is a major in Fine Arts, which has four departments, Painting, Sculpture, Miniature Painting and Printmaking.
SS: We visited the school last week; it is such a beautiful and inspiring place. Do you explore other mediums since you have studied such diverse subjects?
BK: Well, I am often thinking about fashion. We are wearing art every day and I find this inspiring. I am thinking about how to incorporate ideas about art into what we wear.
SN: I really see fashion as an artistic form and a true form of expression. For me it is just working with a different medium.
BK: Yes, it is definitely a part of who we are. The making of clothes has a very long tradition in Pakistan. The connection (between who we are and what we wear) is very strong, unconsciously we become our attire. However, we were talking about the fashion industry in Pakistan the other day and everything feels all too homogenous. It has lost that individual personality.
SN: Waqas, do you feel that you address your identity and culture in your work?
WK: Yes, it is embedded in my work, in a metaphorical way. In South Asia, we have this practice in textile, a very labor-intensive practice and this really relates to my work. The repetition of intricate small actions eventually creates something. Let's also not forget, this region has a history of very meditative practices. Religious practices such as those of Sufi's. Yet, at the same time I am not confining my ideas to a local geography.
SS: How do you connect to the wider world through your work?
WK: How to generate a dialogue being from this part of the world and how to communicate with the rest of the world, I think about this a lot. I've been very lucky in this matter, that people connect with my practice.
SS: I read that your everyday routines highly effect your work, can you explain this further?
W: Yes, my everyday routines are in my work. The expressions of the lines are there. We are not emotionally static human beings. Unconsciously, things come out and I want you to understand my practice as part of my existence. I am more of an investigator. My understanding with my surrounding changes.
SN: Do you identify yourself as an artist?
WK: Not really. Let me tell you a story. You need to know where I am coming from.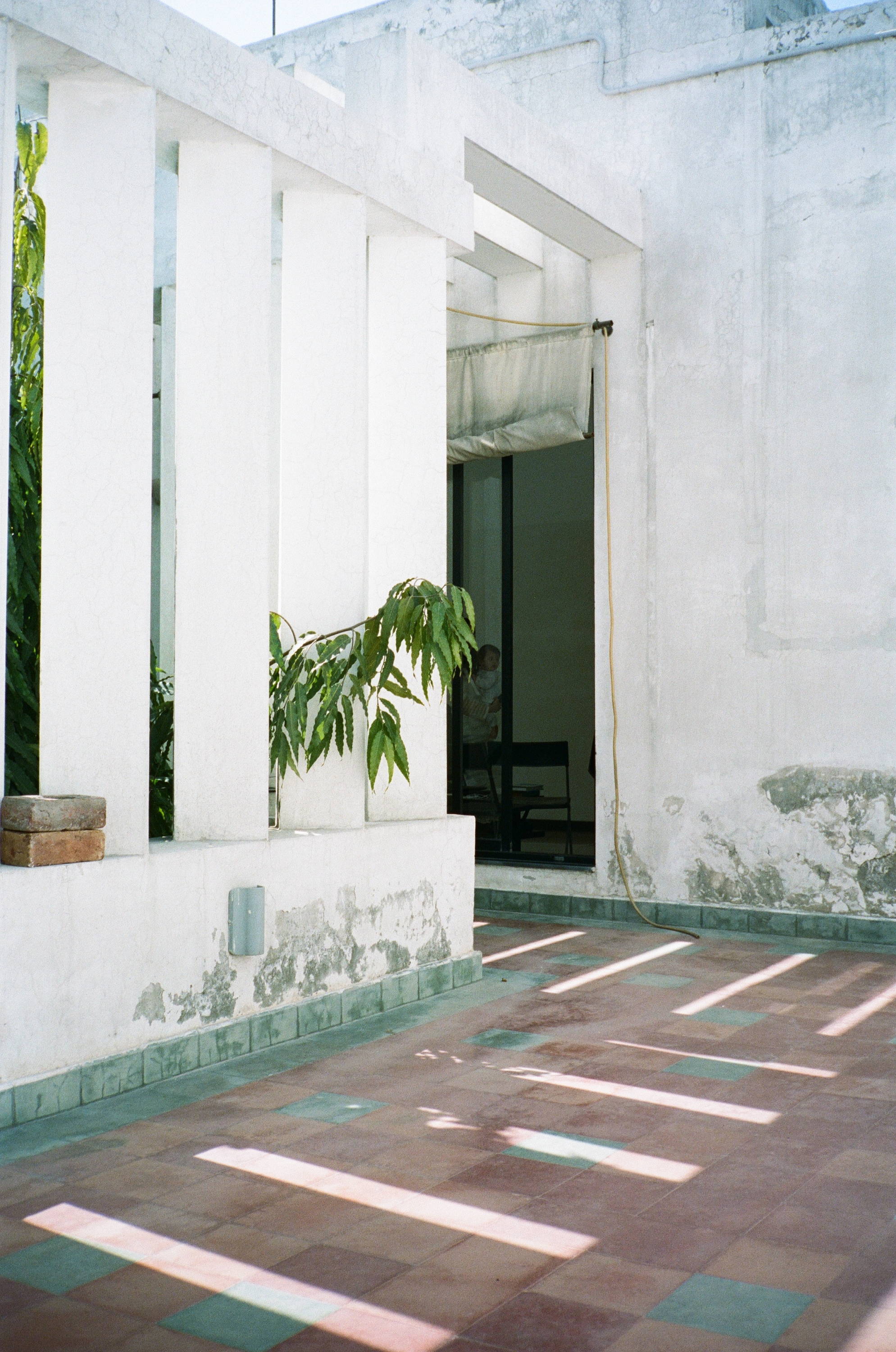 Beautiful outdoor space connecting to the studio
I was born in a small town, Akhtar Abad. My mother was a math teacher and my father started work as a farmer. I was always helping my family around the farm and the house.
I was not really interested in education at the time, but my family wanted me to go to a good school. Eventually we moved to Lahore and I was enrolled in an all-boys college. As a typical family of this region, I was expected to take the path of a doctor, or an engineer. I had very little exposure to images and art therefore being an artist simply wasn't even a concept in my world.
One day I was doodling in my notebook and one of the servants who worked in the cafeteria noticed my drawings. He came to me and said 'Khan saab' you have to come with me. He took me through the servant's doors into the National College of Arts. When I arrived, I was shocked, I had never seen a place like this, and with so many women!
It took me three years to get accepted into NCA. I kept applying and failing because of my English level or my other studies. Finally, on account of a foreign student not showing up, I was the next one on the waiting list and was finally accepted. I was so ecstatic, to have come from where I was and finally receive this acceptance letter to a whole new world.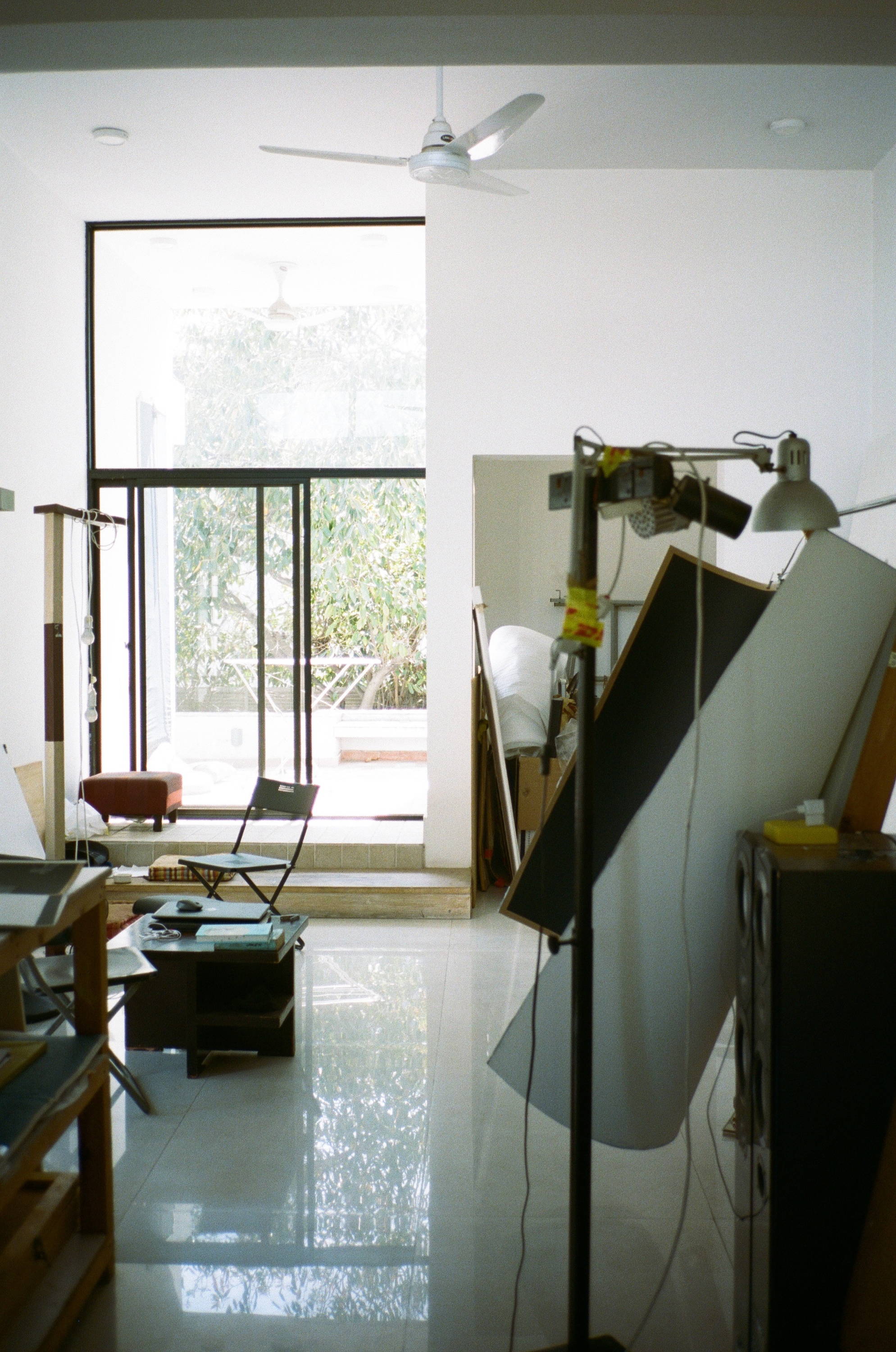 Large windows fill the room with light
SS: Its wonderful you didn't give up. You really knew you wanted to go there.
WK: Yes, however once I was accepted, I had many issues. I was very lazy, and I wasn't the academic person that was required at the institution.
BK: He just kept failing. He never showed up, he didn't pay attention. It took almost seven years to finish.
SS: Is NCA where the two of you met?
WK: Yes, but she never liked me.
BK: Its true. I would have never married him, even if he was the last person on earth.
WK: I did eventually graduate and we did eventually marry, but I really took my own path to get there. I am often referred to as the lone wolf; I prefer to work in the evenings, I am always on my own and I often stray from societal norms. Yet I feel lucky to have been accepted and praised by international art community for being who I am.
SS: I enjoy working at night as well, what is it about the night that allows you to create your work?
WK: During the day, I just can't concentrate, the night is...
BK: I think you enjoy working at night a lot, you have a different energy. And we as a family give him that space to work.
WK: I cannot say why, it just is.
BK: His mother often says, "I gave birth to him, but I still don't know who he is." I agree with her. Every day, you get to know Waqas a little more.
SN: It is interesting because your work is very consistent and rigid.
WK: Exactly! And it is particularly why this is the best thing that happened to me. When I am working, I feel as though at the tip of my pen, there is a whole person being held and restrained. My focus is not on one thing, but a million things. It is a lot to carry. My work has become my meditation. It has actually changed me.
SN: Hearing you speak, you have such an emotional connection to how you create.
WK: Every line means something, there's codes everywhere. I am involved and everyone around me is a part of my work. I love it.
BK: He madly loves it.